The Hidden Gem of Phoenix Metro Sports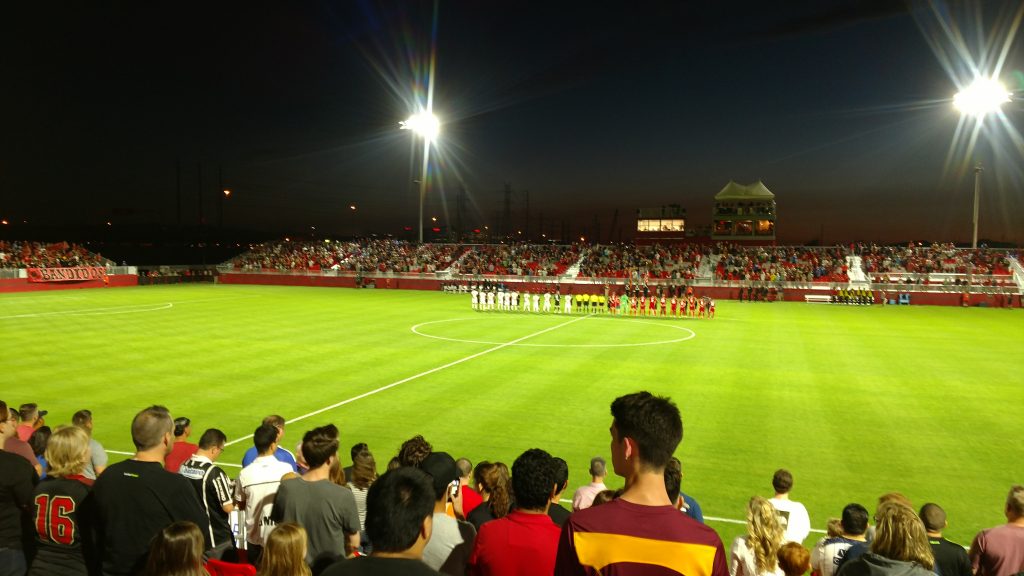 Throughout the valley, you'll find several large professional stadiums and arenas— from the homes of the Cardinals and Coyotes in Glendale to the Suns and Diamondbacks in Downtown Phoenix. In the heart of Tempe, we have Sun Devil Stadium with a capacity of 50,000 and Wells Fargo Arena at roughly 14,000— the homes to ASU football and basketball respectively. However, there is one stadium that may not seem so familiar. About 2 miles away from Downtown Tempe, tucked in the corner of the 101 and the 202 you'll find the 6,200 seat home of Phoenix Rising FC, the Phoenix Rising FC Soccer Complex, and the newest addition to our large sports market.
This United Soccer League (the Major League Soccer feeder league) club began to play just last year after undergoing a rebranding under new ownership and is now on a path to MLS expansion here in the Valley. Their current stadium is a placeholder for a significantly larger and more expensive complex if granted an MLS spot. The stadium took just over a month to put together but is still one of my favorite venues in the area.
Unlike the other big events, you will not need to pay extra to park on-site (they add a $1.50 fee to each ticket). Once inside there are tents abound, from the team shop to company promotions and food stands. A variety of food trucks also line the west side of the arena, giving the area a street-fair vibe. If you walk around you can also typically find a few small carts hidden away with no lines and some beer options.
When all stocked up, and in your seat, you will probably be feeling a different energy than you're used to, sort of like a more intimate minor league baseball game. There are no upper levels though, so wherever you sit, it will not be too far away from the field. You will probably be able to hear some of the interactions between the players, without them being "mic'd up", that is at least if the drums of the ever-standing supporter's section in the south end aren't bellowing over the crowd. You will be close enough to see the faces of the players you came to watch, without having to zoom in. There is no squinting required to see the movement of the ball. Each goal feels up close and personal, adding to the excitement of the crowd.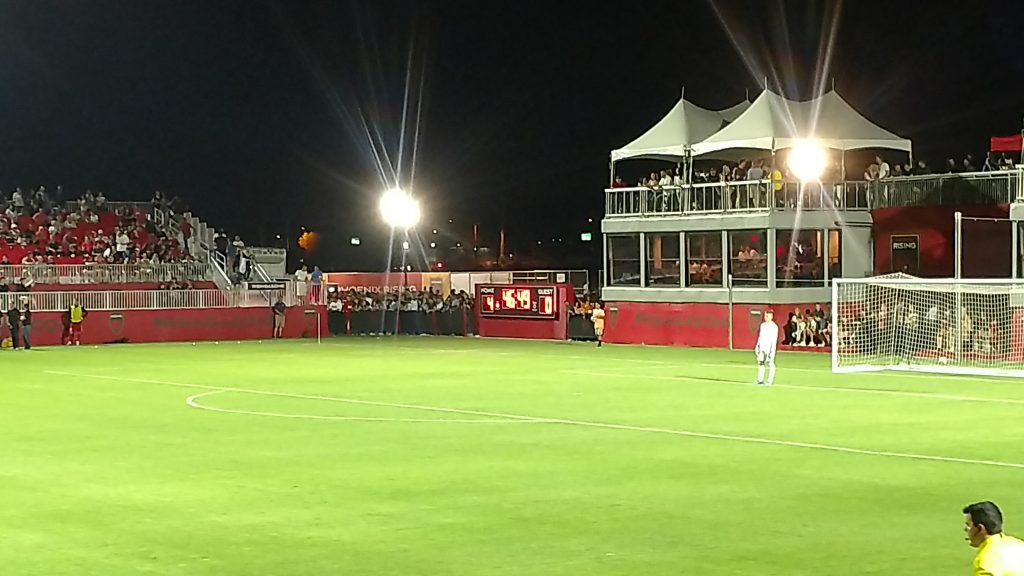 These games are not massive or overly critical in the grand scheme of things, but it never feels like they don't matter. The crowd cares, as told through the collective gasps and exhales while the ball moves. The same supporters show up week after week and don't stop cheering until the 90th minute, giving each match the feel that it's do or die.
This stadium will never be confused with Old Trafford or CenturyLink Field (famous for its seismic crowd noise) but is a lot of fun for that same reason. If you're a soccer fan or just looking for a different experience than the other teams around and don't want to break the bank, then I recommend seeing a game here.
Trey Taylor is a former English major, originally from Richmond, VA. He has been a resident of Tempe since 2012, graduating from Arizona State in 2016. Trey has a passion for travel and adventure, so he is always willing to pack a bag and jump on a plane, or out of one. Trey is a lifelong fan of all things sports and loves to attend all of the games or events around Tempe. When he isn't watching the game or on a trip, you can probably find him on a restaurant patio, enjoying the warm weather and a drink. Please feel free to reach out to him directly at
ttaylorphx@gmail.com
.