Why The Rosen/Bradford Duo Will Work For The Cardinals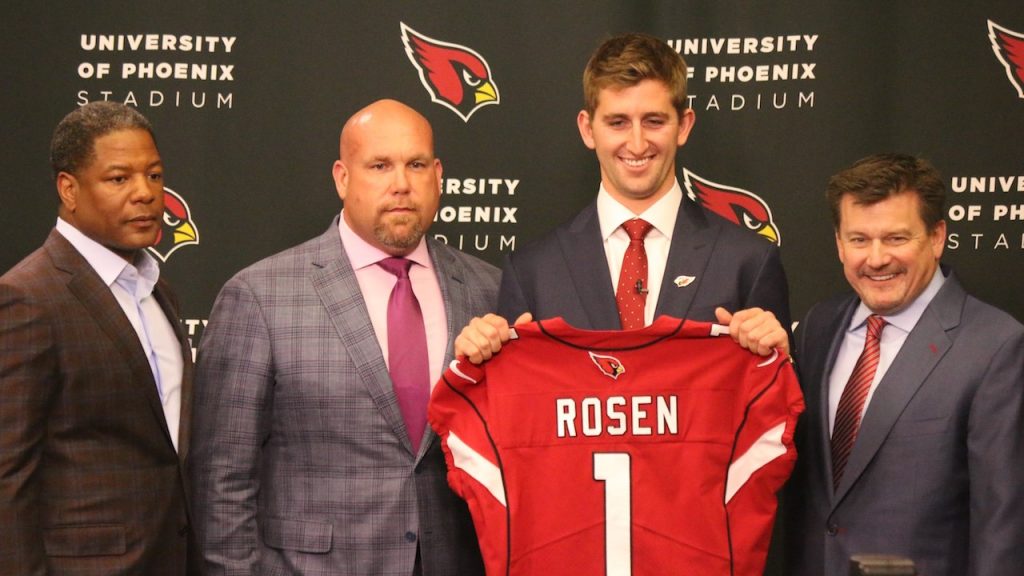 (Josh Rosen at Cardinal's Introduction. Photo Matthew Emmons-USA Today)
For the first time ever, four quarterbacks were chosen in the top 10 of this years NFL Draft, with the fourth being Josh Rosen from UCLA. The Cardinals traded up from the 15th pick to the 10th in order to snag Rosen. This move was made with the hope that he will be the long-term solution for a quarterback.
After years of picking up veteran QBs; including Kurt Warner, Carson Palmer, and most recently Sam Bradford, the Cardinals are hoping they finally have the franchise QB to get them that coveted Lombardi trophy, maybe even several. The team managed an NFC championship appearance with Palmer under center, and Warner came within an incredible Santonio Holmes catch of delivering in the Super Bowl. However, these were always brief glimpses of hope as neither figured to have many years left to give the franchise.
With Rosen, the Cardinals have the chance to mold and develop a young signal-caller without worrying about having to outpace father time. Rosen also has the benefit of being paired with the former first overall pick Bradford. Hopefully, the oft-injured Bradford can stay healthy and allow Rosen to learn the system and adjust to the NFL game; a luxury the three QBs taken ahead of Rosen will not have.
While I do believe Rosen is the most NFL ready of the four, it's a tough learning curve for any young rookie and trial by fire often only ends up damaging the psyche and reputation of rookie quarterbacks.
A healthy Bradford should allow the Cardinals to be competitive in the meantime, but the real value is in the time it buys Josh Rosen to develop for the Cardinals. The team was never able to find the right guy to sit and learn from Warner or Palmer, but it feels different this time. The two each have a lot to give and the room to do so in Arizona. Although Rosen has never thrown an NFL pass and Bradford can't seem to stay healthy, I still believe this should be the future at QB here in the desert.